Curd Herd Letterboxing Event 2023
(this is the rescheduled 2022 Event)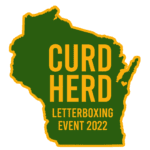 IF WE DO NOT RECEIVE A CONFIRMATION that you are attending by 4/1/2023 we will remove your name to give those on the Wait List an opportunity to participate.
ALERT! IF you are Night Boxing you MUST have a powerful flashlight (not the $1.25 store special!) and must prove you have a flashlight to obtain night boxing clues. Due to the primary location of the night boxes, you may NOT search for boxes with a headlamp only.
**UPDATE as of 1/9/22 There are only FOUR Cottages Remaining at the Event Site. IF you want to stay onsite, the link for booking is: (3 night minimum)  https://secure.thinkreservations.com/ephraimvillagecottages/reservations
Here's an interactive site map: https://ephraimvillagecottages.com/cottages/
Put CURDHERD2023 in the EVENT NAME space so that we know to put the perks in your cottage.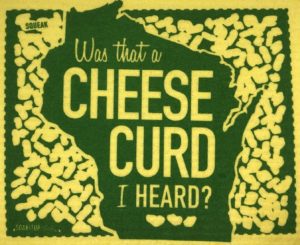 EVENT BACKSTORY (this is fluid…so check back often):
Word on the street is that a herd of curd eating mice that are gathering at a little Village called Ephraim on a peninsula in Door County, Wisconsin. The Curd Herd is quiet, quick, and quirky. They come to Ephraim from all over the County. They are nothing but T-R-O-U-B-L-E, plain and simple. I've set the Mouse Trap. They all laugh and think it's a game. Yes I've alerted Sgt. Dunkin and Lt. Krispy but they have bigger fish to fry. And trying to hire someone with a science background to help figure out how to catch them all is a joke. I contacted a quite a few of these science geeks and every single one turned me down saying they're busy because they are going to the party. Excuse me? What party? I read the Pulse! But alas I knew exactly where to go for the skinny. The town gossips. There are four of 'em!
They do nothing but tell tall tales all day up in that Tree using an old rotary phone. I swear. They start every conversation with, "nobody Gnomes the trouble I've seen". Don't they know texting is so much easier? I think they like the sound of their own voice. Most recently I overheard one of them say "Everyone calls him Bruce because he dances in the dark". I exclaimed, "that's the party…" then gossip session abruptly ended. Ope. I should have used sign language. Much quieter.
Anyway, I tried to corroborate what I had just heard with Fact Jack, a local, but he's always drunk and wasn't much help. All I could make out from the conversation with him was something about "only the strong Survivor they won't". He never makes sense. Especially with M&M's in his mouth. I hope he remembers to pull the shanty he shares with Charlie off the ICE before it falls through during the spring thaw.
So, what am I suppose to do about all of this? Just sit around the fire pit roasting marshmallows and let this Curd Herd take over? Like it wasn't already too much to bear, I accidentally knocked the bin of Cooties off the table with my big HIPS and they went all over the place. You know, I could just Row Row Row my boat far away from the Cottages while eating toasted marshmallows and just be done with this whole thing. The only issue is I KNOW that darn Herd will row off into the sunset on a slab of cheddar and laughing at me the whole time. But I can't give up. I need your help to get a grip on this ridiculousness! Are you game?
SEE YOU THERE!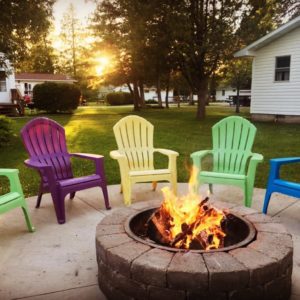 FRIDAY NIGHT: 6:30 p.m. Registration Starts. Please do not arrive early. The event site has guests checking into our 12 cottages and must tend to them first. Cost for this event is $5/person EVENT FEE (includes 1 door prize ticket) due in cash upon arrival to cover the following costs associated with this event and to receive the clues for the event. Please prepare your signature stamp ahead of time on cards or stickers for registration and exchanges.
PARKING: We will have specific parking instructions given to each attendee. There is minimal parking at the event site (preferred parking for guests that assisted with stamp carving, clue writing, and donated raffle items). All other parking is offsite in a safe location and within walking distance (approximately a block). Guests staying on property will park in their cottage parking space.
Those that wish may remain by the fire to chat, share letterboxing stories, hang out and enjoy a drink of your choice. The firepit will not have lights.
The event property is also a vacation destination for guests not participating. The fire pit is a simply a gathering place. The tents in front of the host house will have lighting, tables and chairs. QUIET TIME on the property is 10:00 p.m. so we will shut down the event at 9:45 p.m. Friday night.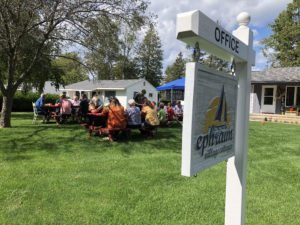 SATURDAY: 9:00 a.m. Registration for New Arrivals. $5/person EVENT FEE (includes 1 door prize ticket) due in cash upon arrival to cover the following costs associated with this event and to obtain the clues for Saturday (not applicable to those already registered on Friday). Friday arrivals will not receive Saturdays clues until Saturday morning.
Saturday is the BIG DAY for boxing.  The event will start at 9:30 a.m. with the unveiling of Saturday boxing clues. Friday night's clues are NOT available on Saturday because the Friday Night boxes will no longer be activated.
Again, participants are welcome to remain on the property for the duration of the day and enjoy the company of others. The fire pit roaring all day. We will have a honey bucket/port-a-potty also for those not staying on property. Raffle (if available) and Door Prize drawings will happen in the afternoon. We will text winners to let them know they won. Winners must pick up prize before event ends. Everyone is welcome to reconvene Saturday Night at the fire pit to debrief from a full day of letterboxing. Saturday Night is the official wrap up.
SUNDAY: WE WILL NOT have any activities on the property on Sunday. Your host attends church services.
This event is a BYO event. That means everyone must bring their own food and beverages. Think HIKING snacks. We would prefer to not have food tables and crockpots to contend with. We apologize if this is inconvenient for you. We will have smores kits available (enough to make 2 smores) for $2.00 donation*, bags of popcorn for 1.00 donation* (I'm trying to secure a popcorn machine),* and bottles of water for .50cent donation*. No other food items provided by the host unless DSquared (isignaslily's husband) is up to operating a grill for hotdogs. After the stroke we cannot make any promises.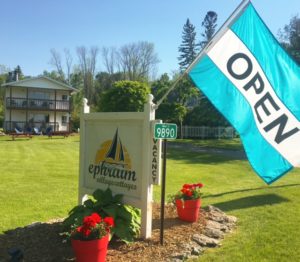 ABOUT THE AREA: There are ZERO fast food restaurants on the peninsula. There are no gas stations in Ephraim. The closest are Fish Creek and Sister Bay. We have one grocery store (Piggly Wiggly – Sister Bay) and one market (Main Street Market – Egg Harbor). We do not have a Walmart, CVS/Walgreens on the peninsula. Chain stores are down in Sturgeon Bay.
If you forgot it and Nelson's doesn't have it then you don't need it.
We have sturdy seating around the firepit with a 350lb weight limit. There are also two heavy metal benches with seat backs for guests that may need some extra space. We have plastic chairs and picnic tables, but we strongly suggest bringing a camp chair. The event site is a vacation resort and our guests have seating priority.
The event site is within 1 mile of Peninsula SP (camping available). The SP requires a vehicle sticker which is available online. It is possible that we will plant a few boxes in fee areas.
(https://yourpassnow.com/ParkPass/wi) or at the park gate for:
-WI Resident Annual Vehicle Admission Sticker: $28
-WI Senior Resident (Age 65+) Vehicle Admission Sticker: $13
-Non-Resident Annual Vehicle Admission Sticker: $38
Bikes and walkers enter the park for free.
There are ample camping sites, RV sites, and motels in Door County in the following towns/villages on the Door peninsula: Fish Creek, Sister Bay, Baileys Harbor, Jacksonport, Egg Harbor, Sturgeon Bay. If you need a recommendation, please contact us: cottages@ephraimvillagecottages.com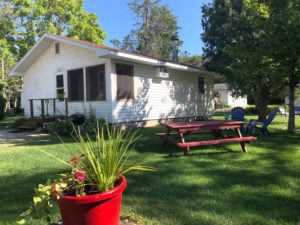 COTTAGE GUEST PERKS include: (must stay on site to receive these)
-Early Registration when checking into cottage on Friday
-$5/person registration waived for each person staying in your cottage.
-Goodie basket and S'mores kit in your cottage upon arrival.
-WOM clue(s) left in your cottage.
-Preferred parking
RAFFLE ITEMS: .50/ticket or 12/$5
-Hand sewn stamp pouches
-Camo mesh bags for hanging boxes
-Letterboxing "To-Go" Kits (to keep in your car for when you run up on a letterbox in your daily travels)
-Letterboxing Journals
-Log books
-Carving Material
DOOR PRIZE ITEM:
TBD
*To reduce any confusion this Event is not the GLG (Great Lakes Gathering).